Perhaps you're dreading the summer temperatures—you know they are coming. When it gets over 30 degrees, everyone is looking for relief. Being cooped up inside all day is not the ideal way to enjoy the benefits of summer sunshine. Having fun and family time in a backyard pool sounds more exciting.
However, for every happy ending, there are also tales of woe. There are plenty of homeowners that report buyer's remorse. The risks are out there. If you are going to have a new inground pool built on your property, learn the pitfalls before you begin.
Common First-time Pool Owner Mistakes:
When the excitement wears off, you may find that you are unhappy about the pool you paid for. The most common reason for buyer's remorse is the buyer never asked the right questions.
By reading a report like this one, you have a much better chance of avoiding problems. Here's a roundup of gripes pool owners have.
Not Having the Pool Design You Wanted
You didn't spend the time deciding exactly why you wanted a pool in the first place. Now, chances are you could regret the design you have. If you have a large pool with a diving board but never use it, you may be using 35% of your pool 95% of the time.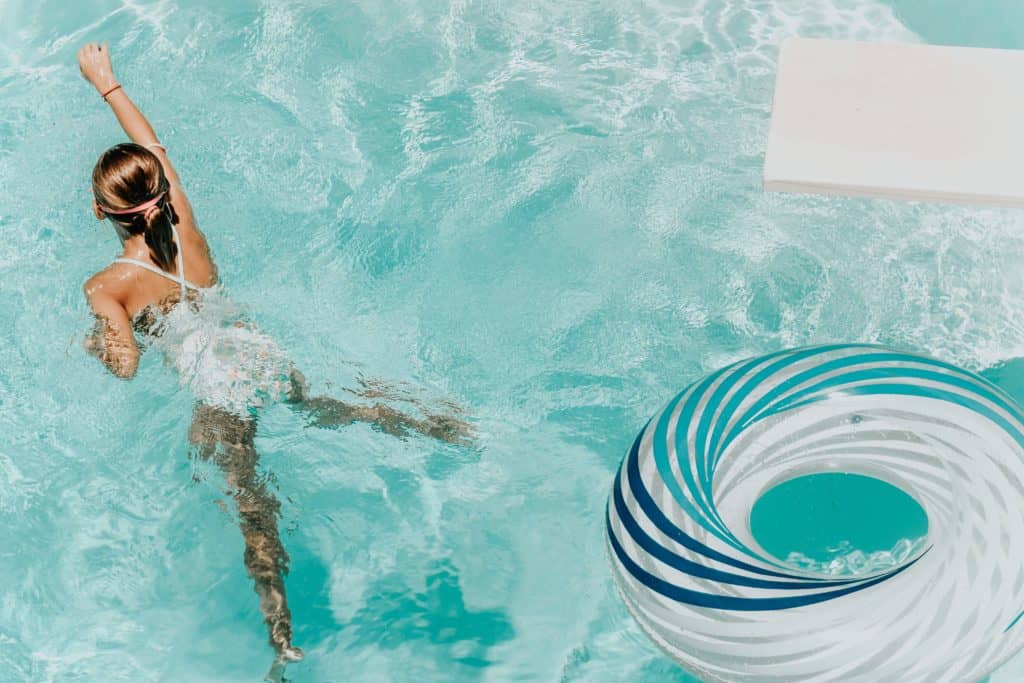 Difficult Access
You put the pool in a place that is challenging for guests to access. There were no considerations for decks or patios to work with your pool. Remember that you need convenient and safe walkways between your home and pool.
Poor Drainage
Even if it happens infrequently, having water carrying mud into your pool is a nightmare. Make sure you have adequate water diversion and avoid all potential flooding problems.
Crowding
If you want to add accessories like a diving board, slide, or spa, make sure you have adequate room. These items take extra patio space and walkways.
Unsightly Shed
Sheds can seem like a good idea to hold all the maintenance supplies your pool needs but be careful of building them in the wrong place or with low-grade materials.
Ignoring Property Easements, HOA Rules, or Zoning Laws
The contract gets signed, and the digging is well underway. Suddenly you get informed about a law that makes you put all that dirt back. This mistake is exceptionally costly.
Not Contacting the Utility Company
Nothing is more frightening than rupturing a gas line while excavating. Other than getting tangled into the neighbourhood electrical lines. Remember to give proper notice to utility companies and confirm the danger areas.
Poor Placement
No one told you about evaluating wind force, hours of sunshine, and tree debris. You have elevated maintenance because of all the falling leaves—or some other bothersome issue.
Getting the Wrong Material
You didn't learn the pros and cons of the two main types of inground swimming pools. There are concrete and fibreglass pools. Expectations about build time and maintenance were never properly explained. Now, there is a good chance you don't have the pool lining you needed.
Selecting the Wrong Pool Builder
This mistake is the most serious one. Some new contractors promise you the world but fail to deliver. When their company crashes like a house of cards, you get left with a big hole in your yard. It's worth the time to check references and confirm credibility.
Avoid the Pitfall with My Pool Builders
My Pool Builders knows your inground pool installation project is a major investment. We want to partner with you and see you take the time to learn about the whole process. After you have done your homework, contact us, and get the inground pool of your dreams. We can help you avoid all the potential downsides of pool ownership.